Yesterday my son and I ventured out to the beach again. In all the years we've been going to the ocean, today was by far the sandiest we've ever experienced. We rinsed off at the outdoor beach faucets but still managed to carry large amounts home with us.  I am still discovering the small grains in my ears and on my scalp even after a shower.
A trip to the sandy shoreline will take me into the beautiful every single time.
Would you join me there?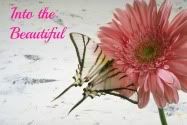 Powered by Linky Tools
CLICK HERE to enter your link.  Please visit one or two other beautiful entries too!