Welcome to the first Into the Beautiful~Link-up. I am thrilled you stopped by today. I am eager for us to swap glimpses of His Beauty with one another.
As I write this post, Psalm 100:4 comes to mind. "Enter His gates with thanksgiving and His courts with praise; give thanks to Him and praise his name."
Not too long ago, I shared with you all some thoughts I had after reading Chapter 3 in the Books of Acts about the encounter Peter and John had with a lame beggar. Day after day this particular man would be carried to the Temple and placed beside the temple gate known as the Beautiful Gate.
One day, his story collided with hope. He requested money but received a miracle instead. The gift far exceeded his expectations. Peter shared the love of Jesus with this man and his life was forever changed. "Walking, leaping, and praising God he went into the Temple with them." He stepped out of his brokenness and into the beautiful!
Will you please join me there today?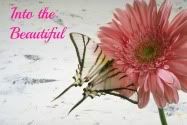 Make sure to click on the Click Here button below to visit other beautiful posts!
Powered by Linky Tools
Click here to enter your link and view this Linky Tools list…