This past weekend, a missionary couple came to our church to share a little about the work they've been involved in around the world.  He quoted the above verse and also reminded us that this life is not about me.  It's about going out and taking the message of Christ with us.  We've been given hope in order to spread hope.
No one lights a lamp and then puts it under a basket. Instead, a lamp is placed on a stand, where it gives light to everyone in the house. Matthew 5:15
I don't know what that looks like for you today.  God calls each of us to something different.  But whatever that task is, let me encourage you to pick up your beautiful feet and go.
We're going into the beautiful today…would you join us there?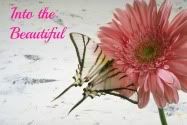 Powered by Linky Tools
Click here to enter your link.  Please stop by and visit one or two other beautiful posts today too!