There are times in life when it doesn't take much for us to feel as if we are getting pulled under.
This is the thought I had after a rather rough experience in the ocean.   My husband, son, and I spent a beautiful afternoon at the beach Sunday.  The waves were incredibly forceful.  In fact, they packed more of punch than I was normally used to.
We hadn't been out in the water too long before we realized how strongly the waves were hitting us.  At one point, the current grabbed hold of us and started carrying us down the beach.  I noticed my son seemed to be drifting away from me.  He swims well for his age but the mommy sensor in me began to worry a little bit.  Right about this time several big waves came and pushed the three of us under the water.  After each one, my husband and I would call out to our son instructing him to try to swim closer to us.  "Swim to us, Sean…swim"
We would try to reach him and another wave would come and toss us around.  My husband was finally able to grab our son and we made our way back to shore.   I'm sure the whole experience lasted less than a minute but I felt my parent panic button go off.  Our son was a little shaken up, but after taking a little breather under our beach umbrella, we ventured out into the surf again.  We all opted to stay a tad closer to the shore.
This little episode reminded me of how my reaction as a parent must differ greatly from how Jesus reacts to me when He watches me drift away or get tossed around by the waves of life.   The one big difference…He never panics.  He extends His hand and reminds me to keep swimming to Him.
I saw this quote on Twitter today and I thought it was fitting:
"When you feel like you are drowning in life, don't worry your life guard walks on water."
He comes along, takes our hand, and lifts us up into the beautiful.
Would you join me there today?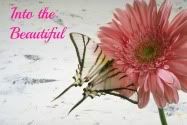 Powered by Linky Tools
Click here to enter your link and view this Linky Tools list…